Mageborn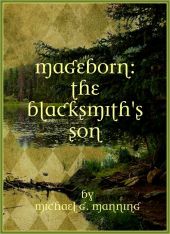 Book One: The Blacksmith's Son
Mordecai's simple life as the son of a blacksmith is transformed by the discovery of his magical birthright. As he journeys to understand the power within him he is drawn into a dangerous plot to destroy the Duke of Lancaster and undermine the Kingdom of Lothion. Love and treachery combine to embroil him in events he was never prepared to face. What he uncovers will change his understanding of the past, and alter the future of those around him.
View it on Goodreads.com
---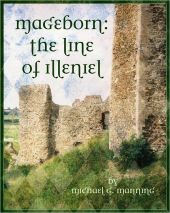 Book Two: The Line of Illeniel
Mordecai has discovered his heritage and must take up the mantle of a lord of the realm, while figuring out what it really means to be a mage of the line of Illeniel. He is beset on both sides by allies and enemies trying to control or destroy his future. Gods and kings both seek to manipulate him for their own ends, and no matter what he chooses his loved ones will suffer. Will he risk destroying his love with a bond that might be her death, or face the madness that comes to wizards who embrace power without restraint?
View it on Goodreads.com
---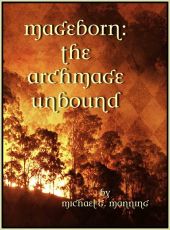 Book Three: The Archmage Unbound
Mordecai's growing power and success have made him a threat, not just to the gods and their minions, but also to the king of Lothion. An unholy bargain has been struck to bring him to heel and increasingly it seems that victory may not be worth the price, not if the cost is measured in the blood of his family. Wizard, lord, husband, father, and now archmage... no man can balance so many roles without sacrificing something. Will the world worth saving if it costs him the very reasons he has for living in it?
View it on Goodreads.com
---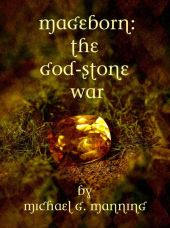 Book Four: The God-Stone War
Seven years have passed since Mordecai's battle with the Shining God, Celior, and since that time his control of his abilities has vastly improved. He has at last envisioned a use for the 'God-Stone', but the gods want vengeance and now seek to destroy everything he has built. The secrets of the past threaten the future of his kingdom, his family, and perhaps humanity itself, unless Mordecai can discover the meaning of 'Illeniel's Doom'. How far will a desperate wizard go to protect his children… or will his efforts merely damn them all?
View it on Goodreads.com
---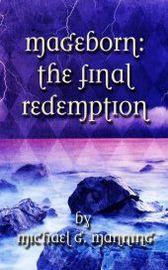 Book Five: The Final Redemption
Mordecai has made the ultimate sacrifice to keep his family safe, and now struggles to understand what he has become. Rejected by all, he must learn to master the darkness within if he is to stop Mal'goroth from destroying humanity. Alone, he battles to control the malevolent magic that has consumed him as he searches for some way to turn his destructive new powers against the Dark Gods themselves. To win, he must somehow transform his own damnation into mankind's salvation.
View it on Goodreads.com
---
Mageborn Omnibus (Hardcover Edition)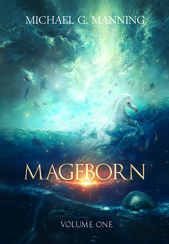 Volume 1: Includes The Blacksmith's Son, The Line of Illeniel, and The Archmage Unbound
Royce Eldridge was a simple blacksmith. He and his wife had never been lucky enough to have children of their own, so when he discovered an orphaned baby on the side of the road after a trip to market, he and his wife were glad to open their arms and hearts, but they knew there was more to the child's story. Sworn to keep a terrible secret, they raised the child, named Mordecai as their own, never telling him the full truth about how he was orphaned, or who his parents were.
As a young man, Mordecai began to develop in extraordinary ways, leading him to questions that couldn't be answered by the simple story he had been given. In the course of seeking the truth, he will find love and treachery as events conspire to draw him into a battle for the future that he never expected. Beset on all sides by enemies and allies trying to control or destroy his future, he must make choices that will damn some and save others.
Will the world be worth saving if it costs him the very reasons he has for living in it?
View it on Goodreads.com
---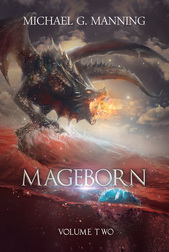 Volume 2: Includes The Gods-Stone War and The Final Redemption
Seven years have passed since Mordecai's battle with the Shining God, Celior. His increasing control of his abilities has enabled him to help forge a brighter future for both his family and the people of Lothion, but dark things still walk in the shadows, whispering terrible secrets in his heart. The gods want vengeance for his transgressions against them, and an ancient curse still looms over him. Unless Mordecai can discover the meaning of 'Illeniel's Doom,' his family, his nation, and possibly humanity itself, may be forced to pay for the sins of the past.
Alone, he struggles to control a dark new magic, seeking to find a way to turn it against the gods, both light and dark, who want nothing better than to tear down everything he has built. Rejected by all, he must master evil; to win, he must transform his own damnation into mankind's salvation.
View it on Goodreads.com
---
Embers of Illeniel
(Prequel Series, set two thousand years before Mageborn)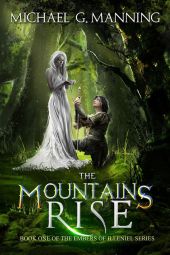 Book One: The Mountains Rise
From the dark depths of the past, comes the tale of the first wizard of Illeniel. Daniel Tennick lived simply, a young shepherd with few troubles and little to occupy his mind, until the warden appeared. Daniel's power awakens, and he finds himself hunted by the servants of the cruel and uncaring forest gods. Trapped by his gift, Daniel will uncover the secrets of the deep woods and those who live there, a civilization created from the grave of an older one. What he discovers will light a vengeful flame within him, consuming everything he touches.
View it on Goodreads.com
---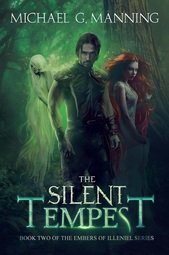 Book Two: The Silent Tempest
The story of the first Illeniel wizard continues. Tyrion's life among the She'Har had become quiet, but the sins of his youth have returned to haunt him. The Mordan wardens have discovered one of his children, and the other groves are racing to find and claim the rest of his illegitimate offspring. Unable to stand by and watch as his children are used as pawns against one another, Tyrion makes a hard choice, one that will set him against everyone and everything he cares for.
Others' love had made his children strong, but his hate would make them powerful.
View it on Goodreads.com
---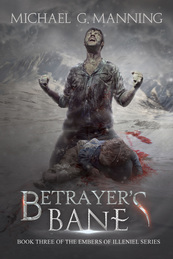 Book Three: Betrayer's Bane
Tyrion was a good person who had been born to a simple family and raised with love, but the world has shaped him for a different fate. Twisted by violence and torture, he is obsessed with a relentless desire for vengeance, and he has sown the seeds of wrath in his children. The She'Har have offered him the opportunity to be a great leader and usher in a new era of prosperity and peace, but despite his gentle beginnings, Tyrion is no hero.
Heroes are born to build, and while many laud the efforts of such leaders, others will work to bring them down, for all good things must come to an end. Every forest must inevitably face the flame.
Destiny has chosen Tyrion for a different path and given him the spark that will burn the world to ashes. Embracing the evil within, he will reap a harvest of hatred, and no one will find safety in the purge of fire that he brings, and even the betrayer has his bane.
Will anything be left to rise from the ash?
View it on Goodreads.com
---
Champions of the Dawning Dragons
(A sequel series featuring the children from Mageborn)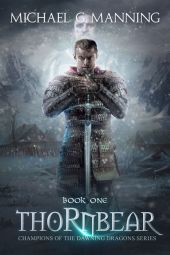 Book One: Thornbear
Gram lives in the long shadow cast by his father, the late-hero, Dorian Thornbear. Struggling to find his place in a world where politics and wizardry appear to have replaced the need for men of might and main, he must make his own mark. Trapped within the seemingly safe confines of Castle Cameron, Gram faces both love and tragedy. His choices will define not only himself, but serve to remind others of his family's legacy, and the reason only a fool threatens those a Thornbear protects.
View it on Goodreads.com
---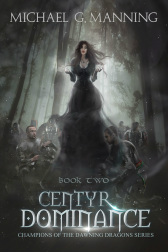 Book Two: Centyr Dominance
Moira Illeniel was the name she lived by, but her true heritage was more complicated than that. From birth, she was the secretly adopted daughter of the most powerful wizard in the world, but few knew that her true birthright came from the Centyr lineage. Traveling to Dunbar to discover the fate of her vanished father, Moira must face the darker aspects of her power. Forced to fight a foe unlike anything seen before in Lothion, she will learn the reason for the warnings her mother's shade gave her—why certain abilities should never be used and some lines never crossed—for some doors once opened, might never be closed again.
View it on Goodreads.com
---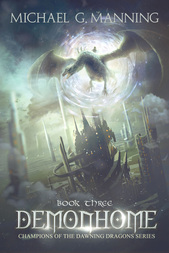 Book Three: Demonhome
Matthew is the first human wizard to possess the true heritage of the Illeniels, a secret gift no one fully understands. Alone, he travels to another world, seeking the source of their mysterious enemies. There he will discover the origin of their ancient foe, the mysteries of the past, and possibly the future of humankind.
If he can survive long enough.
In a land beyond death and suffering, he finds the true source of evil, within the heart of humanity, and their newest creation. In the search for knowledge, some doors, once opened, can never be closed.
View it on Goodreads.com
---
Stand-Alone Novels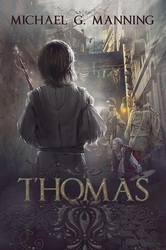 Thomas
Thomas was no one, an orphan with no past and no memories of his early life. The only clue lies in the strange birthmark on his chest, a mark that may or may not reveal his origin, but will certainly guide him to his destiny.
Growing to manhood he will become a man of consequence and influence, yet the greatest gift he has to offer his people lies not in his power, but in his wisdom. As he strives to reach his potential he will face obstacles great and small and he will discover that some foes are too strong to defeat with power alone.
The greatest of evils can only be stopped when those true of heart are willing to sacrifice blood, tears, and sometimes—their lives.
View it on Goodreads.com
---